The metallurgical crane is a overhead crane, It mainly includes: casting crane, slab crane, stripping crane, clamping crane, forging crane, quenching crane, electrolysis crane, rake crane, etc. Due to the harsh working environment of metallurgical crane, in order to avoid the failure of metallurgical crane, the following safety measures are designed for metallurgical crane to ensure the safety of users' personal and property.
Metallurgical crane safety measures are as follows:
1、The lifting mechanism has two sets of braking systems. When one of the braking system fails, the other braking system can ensure that the hook does not slip off.
2、The lifting mechanism adopts at least a four-rope winding system, so that when one wire rope or two diagonal wire ropes are broken, the heavy objects can be safely placed on the ground.
3、Lifting beam: There should be thermal insulation under the lower flange plate of the lifting beam. A protective cover is provided on the movable pulley that wraps the wire rope at both ends.
4、Plate hook: The material of the hook sheet should not be lower than Q235-C or Q345-B. the rolling direction of the hook sheet material should be consistent with the hook length direction; after the hook sheets are stacked and connected, the gap should be <0.5mm, Do not loosen. the hook mouth should be provided with an anti-wear protection saddle.
5、The lifting mechanism is equipped with a double limiter (usually a heavy hammer type and a rotary type) at the lifting limit position, and the motor power is cut off when the picking device rises to the limit position specified by the design. For crane with a lifting height greater than 20m, a stopper at the lower limit position should also be installed. In addition to automatically cutting off the motor power, it should also ensure that the wire rope is wound on the drum. The number of turns on the reel is not counting the number of fixed wire rope turns. Keep at least two more laps.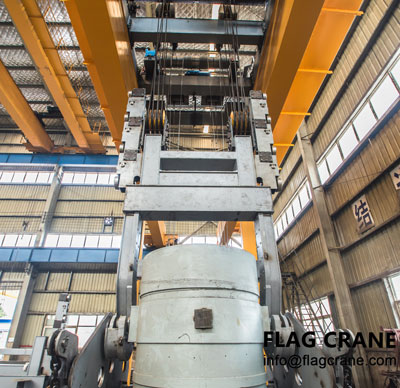 ladle hook for metallurgical crane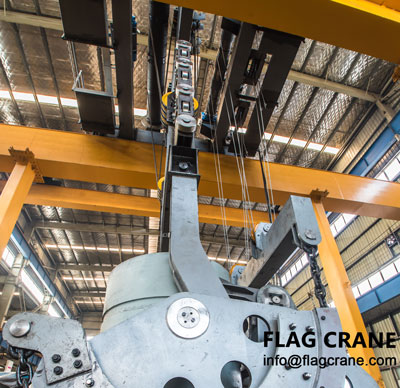 Flagcrane has a professional technical team, which can design and produce standard and non-standard cranes. If there are other special requirements, it can be customized according to user needs and negotiated by both parties.